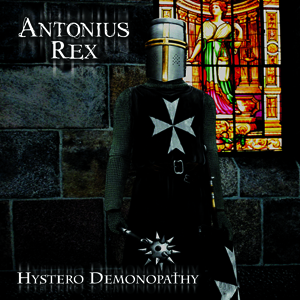 Country
: Italy
Sub Genre: Gothic, Eclectic
Label:
Black Widow Records
Release date: December 12, 2012
Tracklist:
Hystero Demonopathy
Suicide Goth
Are Mine
Disincantation
Demonic Hysteria
The Devils Nightmare
Witches
the Fatal Letter
Possaction (integral document)
bonus video:
10. Rexample (vocals soloist & riffs pt. 1)
Line-up:
Antonio Bartoccetti :::: Guitars, Vocals, Bass
Rexanthony:::: vocals, keyboards, synthesizers, piano, digital drum, digital orchestra
Monika Tasnad :::: Medium
special guest:
Florian Gorman :::: Acoustic Drums (Gretch)
Vocal guests: Laura Haslam
Vocal guests: Vladimir Leonard
Vocal guests: Svetlana Serduchka.
Description/Reviews:
"Hystero Demonopathy" is the result of an esoteric research, made by Antonio Bartoccetti,
on DEMONIC HYSTERIA, considered as a psychiatric event by some people and as esoteric-magic by others.
Historically a psichiatric disorder or demonic esoteric disorder is marked by excitability, irritability, dark confusion, mystic demonomania, misbehavior and emotional extremes,
occurring mainly in possessed women. From the point of view of music "Hystero Demonopathy" is a multisound-multistyles of concentrate fusion: gothic, classic, post-classic,dark, doom, metal, impressionist, progressive, post-progressive, after-rock....
with micro electronic inventions and perseverant events.
Media/Samples
Teaser
entire album at progstreaming.com
Links:
Web page
Facebook
ProgArchives
Proggnosis