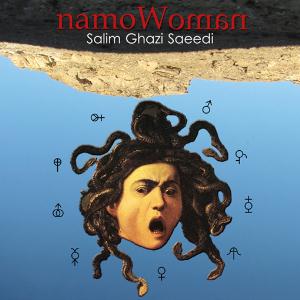 Country
: Iran
Sub Genre:
Progressive Metal, Art Rock, Avant Prog
Release date
: October 20, 2012
Tracklist:
1. namoW
2. nam
3. amo
4. moW
5. oWo
6. Wom
7. oma
8. man
9. Woman
Line-up:
Salim Ghazi Saeedi / all instruments
Description/Reviews:
An instrumental avant-prog and prog metal album, namoWoman hires microtonal Persian music influences while introducing a newly constructed language (conlang) named "l3abEl" (pronounced Babel) in which the album's booklet is written.
Salim is the man of extremities while always seeks reconciliation and harmonization among the most remotely contradictory elements. So developing as a rock/metal artist in a rock alien environment in his hometown or expressing himself by personalized mediums like a conlang of his own, all comes natural to his lifestyle. In his 2012 album, Salim has hired an expressionist microtonal approach toward art rock/metal that he describes himself as "empty spaces filled with occasional wild electric guitars and expressive melodies while having oriental dance elements undercover".
About the concepts behind namoWoman composition, Salim says "I have always found the assumption of impossibility, an important trick against my mind - a human mind that usually prefers patterned and inductional methods of cognition." Salim adds: "As an artist, creating and experimenting yet unexplored mental realms has always fascinated me and in order to trick my mind into pushing toward new possibilities, I like experimenting around fundamental concepts like human sexuality. Ideas like considering human sexuality beyond its dualistic nature let me to enter a new mindset and fascinations about worlds of non-Carbon based life, gradually fed my creativity for namoWoman. Maybe I can say this mindset forced my mind to respond on vital levels and challenged its own existence..."
Here, Persian music quarter tones are coming in between western music intervals. While quarter tones harmonize namoWoman album's musical language, the l3abEl conlang accompanying its booklet tries to establish the harmony in realm of words.
Also read the review
by Rok Podgrajšek
at
therocktologist.com
Media/Samples
man
Links:
Web page
Facebook
ProgArchives
Proggnosis