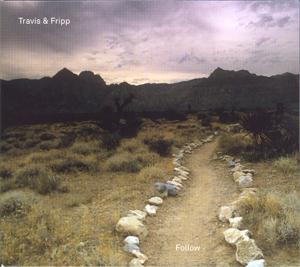 Country: UK
Sub Genre: Eclectic
Label: Panegyric
Release date
: September 24, 2012
Tracklist:
1. Soaring and Gliding - 8:54
2. Dark Clouds - 7:14
3. When The Rains Fall - 10:04
4. Hear Our Voices - 2:50
5. 1979 - 7:45
6. Open Land - 6:17
7. Return to Saturn - 6:50
8. Rotary Symmetrical - 4:18
9. So There - 4:24
Line-up:
Theo Travis - flute, alto flute, bass flute, soprano, tenor & baritone saxophones, clarinet
Robert Fripp - electric guitar, sounscapes, frippertronics
Description/Reviews:
The album was recorded from 2010 to 2011 in various studios in the UK, and some of the recordings were also made in Spain. It was mixed and mastered by Grammy-nominated producer extraordinaire Steven Wilson. The album is a development from previous Travis & Fripp releases in that it is not only mixed in 5.1 surround sound - it was largely conceived in surround sound. So for example, on 'Hear Our Voices' the four part flute choir with the lead soprano sax voice is mixed with one flute in each corner and the soprano sax front middle. 'Open Land' has different woodwind textures around the 360 degrees listening space, and some movement too eg the pair of clarinets which slowly move behind the listener. 'Return to Saturn' has the cascading clarinet chords and they are voiced so that each part of each chord is placed separately around the 360 degrees listening space and each chord completes one full circle.
Media/Samples
Follow
Hear Our Voices
So There
Links:
Theo Travis' site
ProgArchives (Fripp)
Proggnosis